About Ly Nha Ky – Founder – Chairwoman of Investment Trading Services Construction LYNK Group
III. Ly Nha Ky – The Philanthropist
1) Ly Nha Ky - "Smile Ambassador" in Vietnam of Operation Smile organization
On 1st July 2009 Ly Nha Ky was invited by the Operation Smile organization to be their representative in Vietnam in order to call for people's helping hands to ill-fated children with harelip and cleft palate. In role of an actress and entrepreneur, she joined in many charity programs and activities to call for deep compassion from community and individuals from all over the nation. Besides, the beauty came to operating rooms in person to give her regards and cares to those children, as well as to support their spirits.
Operation Smile organization has been performing well for 20 years so far. Since 1989, this non-government charity organization of the America has operated free of charge for more than 13,000 children and teenagers having facial congenital anomaly. Many world celebrities used to cooperate with this organization in role of ambassadors such as: Mariah Carey diva, Jessica Simpson singer, Jackie Chan actor, Donal Trumph billionaire etc…
Ly Nha Ky came to operating rooms in person to support children's spirits.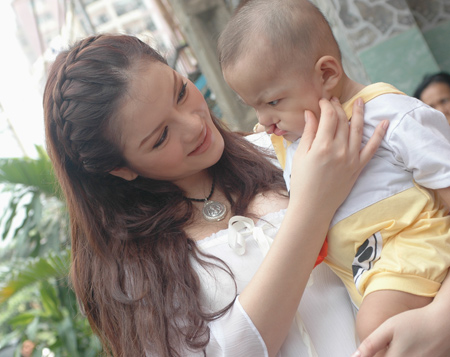 Ly Nha Ky visited children with cleft palate
On 25th September 2011 Ly Nha Ky was invited to attend a fund-raising charity program hosted by the actor Jackie Chan, whereby she introduced about Vietnamese country and people, especially Vietnam tourism to international artists and world entrepreneurs.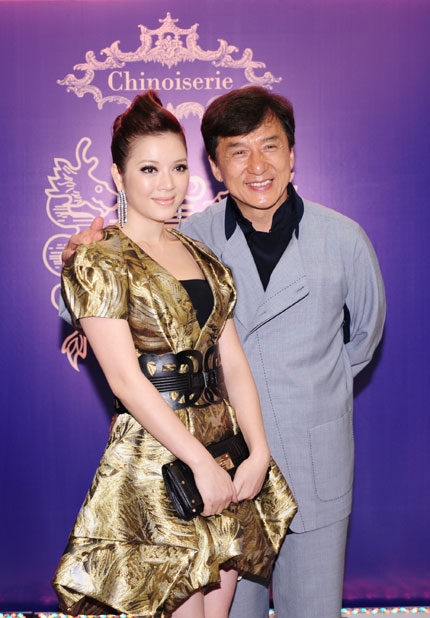 Ly Nha Ky at the fund-raising charity event of Jackie Chan Hollywood star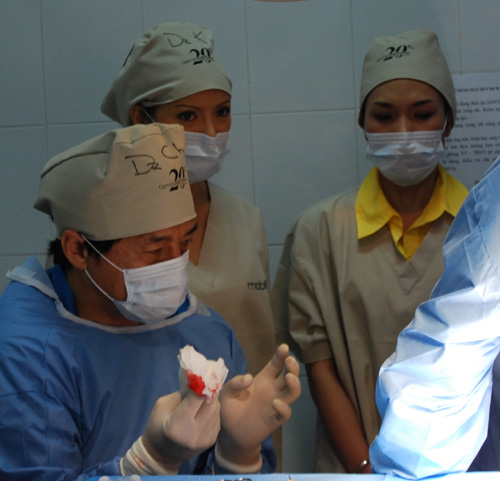 Ly Nha Ky (in the middle) with Jackie Chan actor in a charity operation
2) Ly Nha Ky - President of Sheen Hok Vietnam as Vice President of Sheen Hok Charitable Foundation
On 15th May 2010 in role of the President of Sheen Hok Vietnam as Vice President of Sheen Hok Charitable Foundation, Ly Nha Ky executed the program eye-operation free of charge for children with eye illnesses such as rush-mat and cataract in nation-wide.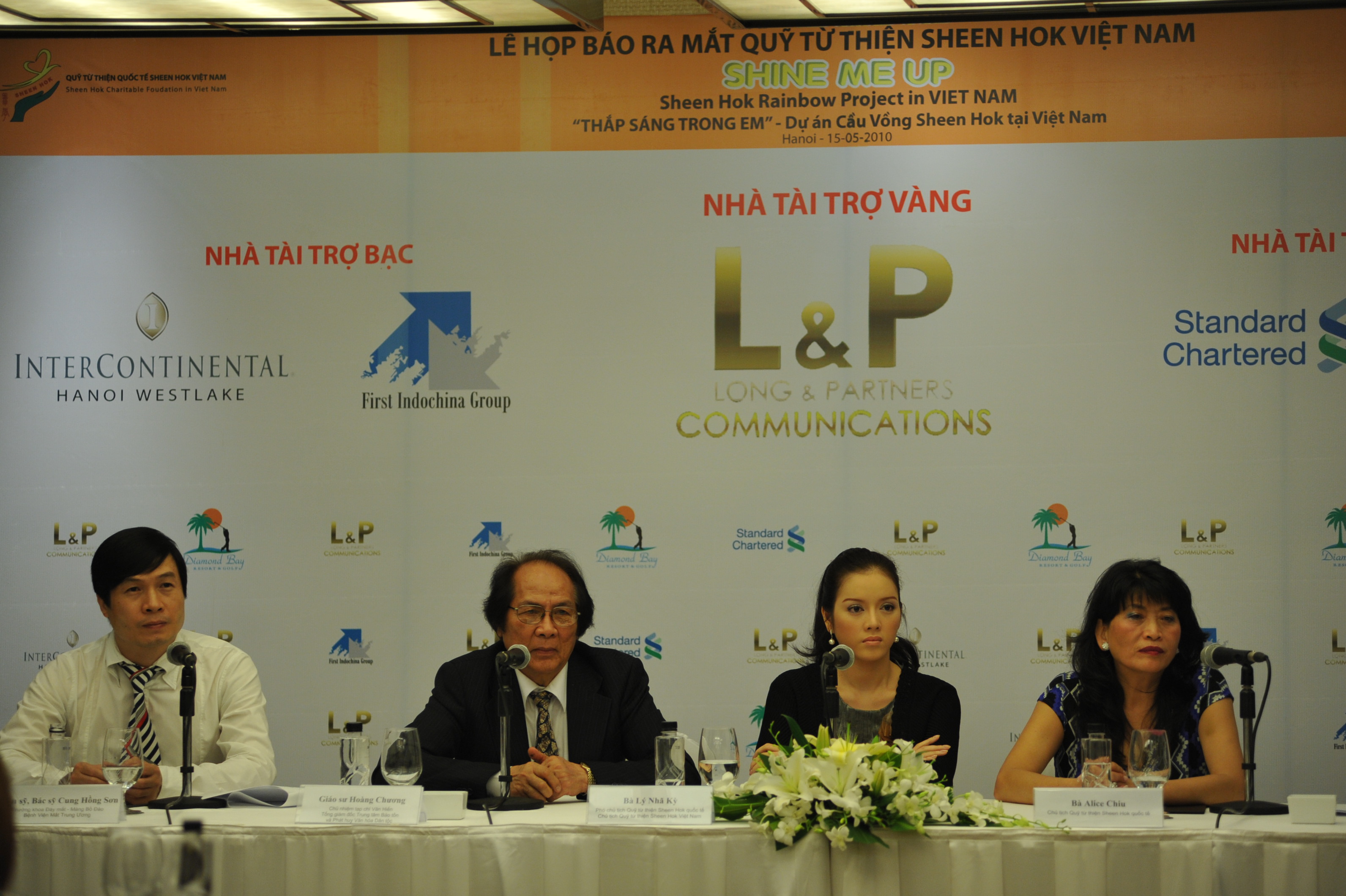 Ly Nha Ky – President of Sheen Hok Vietnam in the opening day
Ly Nha Ky also sponsored for the expenditure of examining and treating for blind children
Ly Nha Ky visited and sponsored food supply to agent orange victim children with difficult situations at Hoa Binh Children Peace Village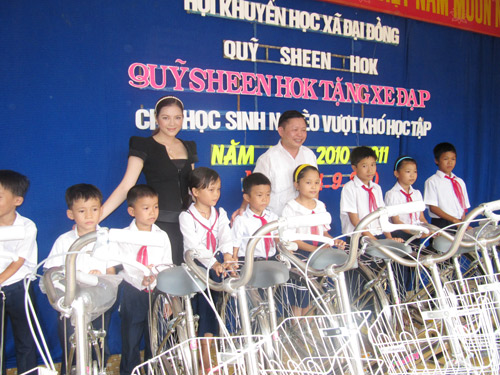 Ly Nha Ky – Vice President of Sheen Hok Charitable Foundation sponsored and presented 200 bicycles for poor children with study competency at Dai Loc District, Quang Nam Province, Vietnam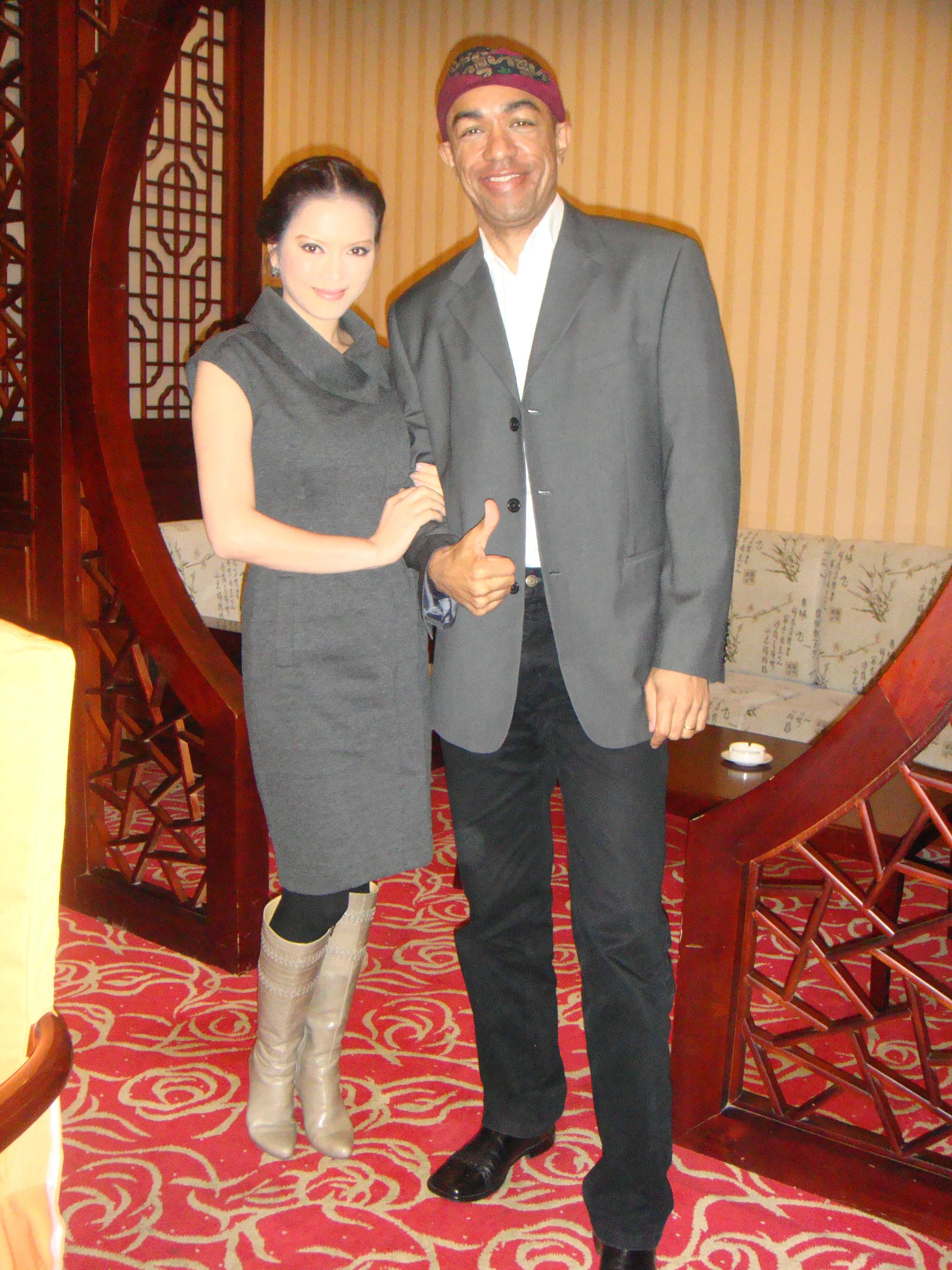 Ly Nha Ky with Barack Obama's brother - Mark Obama Ndesandjo, both were invited guests of charity ceremony award of Chinese press Federation took place in middle of December 2019 in Beijing.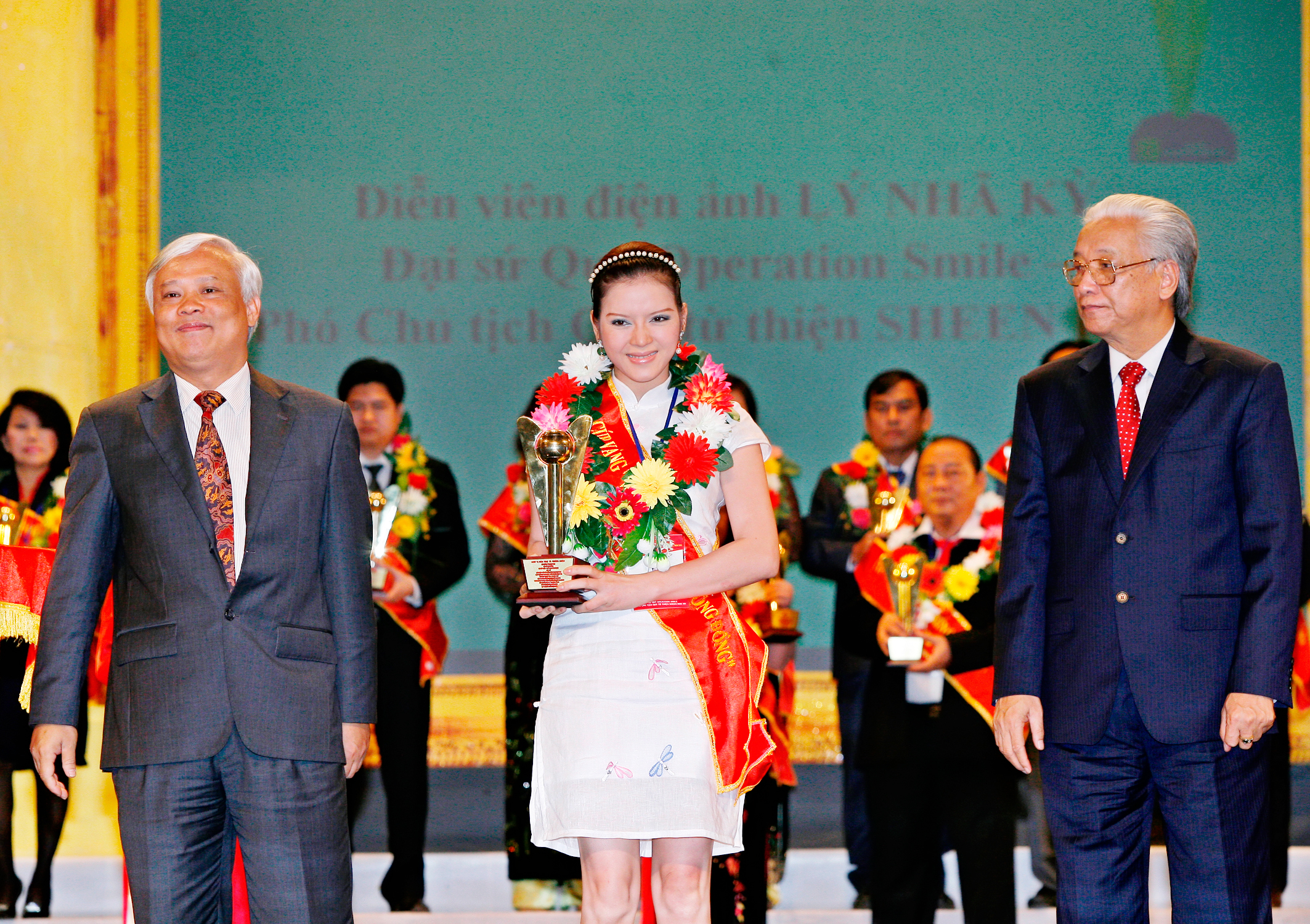 In 2010 Ly Nha Ky is the youngest individual rewarded with golden trophy of "Community Development Career" the 5th in Vietnam
3) Ly Nha Ky - Presdient of Health Education Development Fund of Vietnam
Being the person who founded Health Education Development Fund of Vietnam, Ly Nha Ky was the major sponsor for many charitable activities to help less fortunate people such as cleft palate operation for children, examining and treating eye illness for blind children, building charitable houses, bridges, schools and bicycles offering to poor children etc…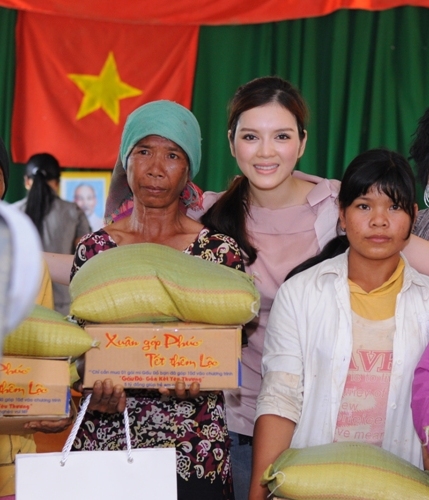 In 2 days of 24th and 25th February 2012, Ly Nha Ky visited and offered 200 gifts for the people in Buon Don and Jun District located near border of Vietnam & Cambodia, which is one the poor village of ethnic minority in Dak Lak Province. Ly Nha Ky informed that this is one among activites of Sheen Hok Vietnam Charitable Foundation which she held the role of Vice President.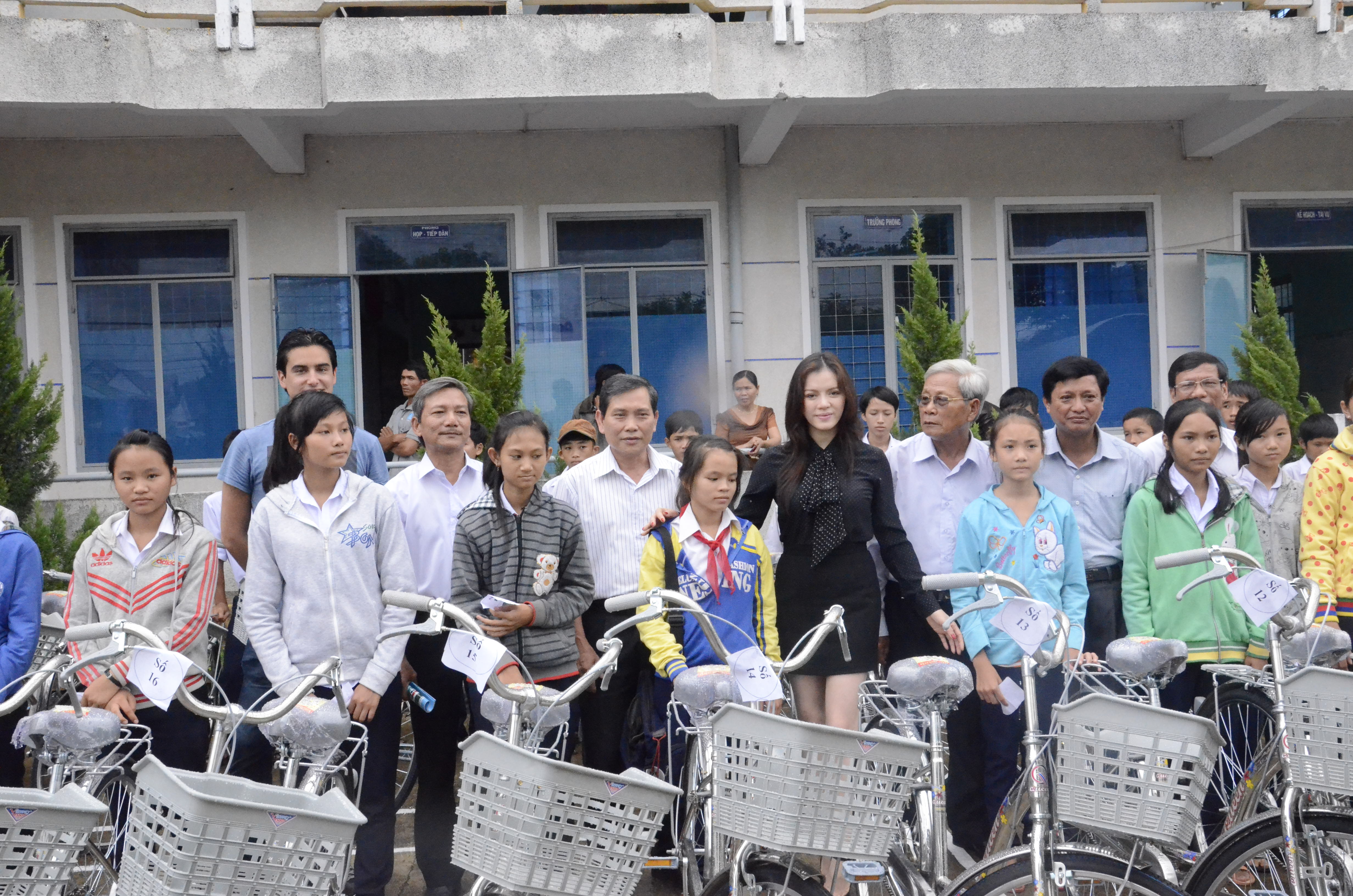 On 17th November 2012 Ly Nha Ky – the Founder of Health Education Development Fund of Vietnam visited Dong Phu town, Que Son District, Quang Nam Province to offered 50 bicycles for poor students living in one of the most poverty district of Quang Nam Province.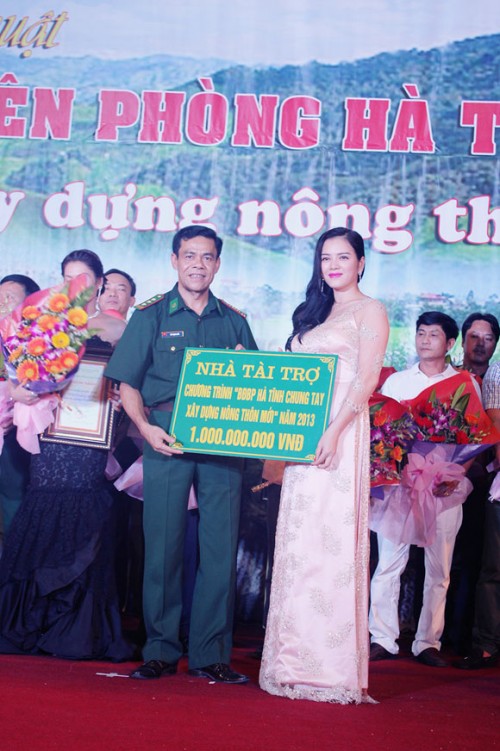 In July 2013, the Founder as well as President of Health Education Development Fund of Vietnam, actress Ly Nha Ky was present in the art exchange program named "Ha Tinh Province border soldiers together building new rural areas" and offered 1 billion Vietnamdong to support and help execute programs of further poverty – alleviation movement, helping special family policy, constructing rural facilities, developemtn culture and society of Ha Tinh Province.
In September 2013, Ly Nha Ky visited Dubai in the role of President of Vietnam Health Education Development Fund, to meet head of a University of the Middle East and to enlarge the collaboration as well as international relation for this charity fund. During the meeting, Ly Nha Ky contacted Doctor Kamali – Vice Principal of Engineering Technology University in the Middle East, and Mr. Sultan Karmosta – Director of Abu Dhabi Men's Collage. This is a university system being regarded as "the face" of Middle East education.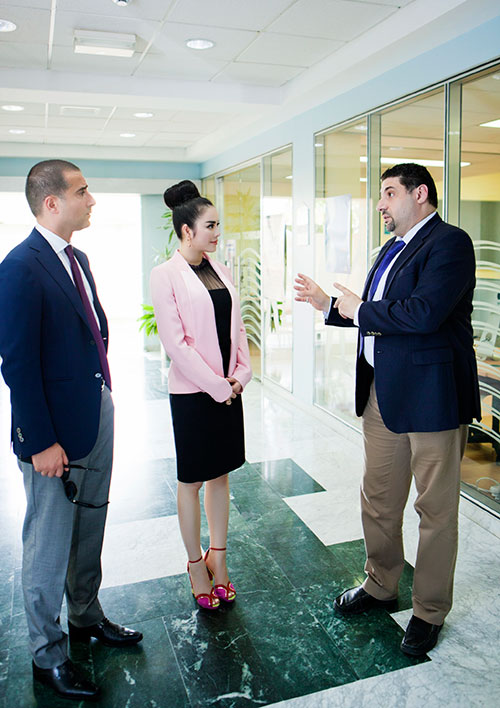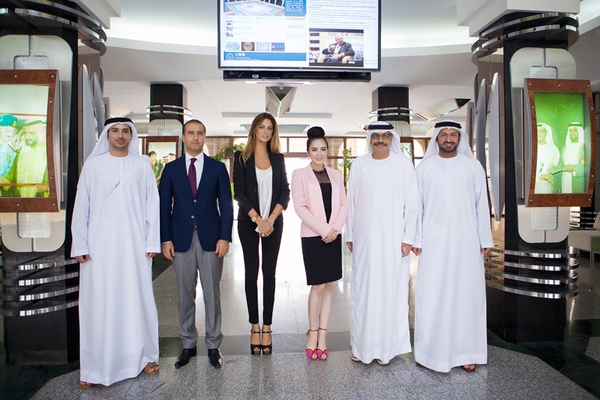 Ly Nha Ky meeting and working with head of Universities in Dubai, Middle East to enlarge collaboration and relation for Vietnam Health Education Development Fund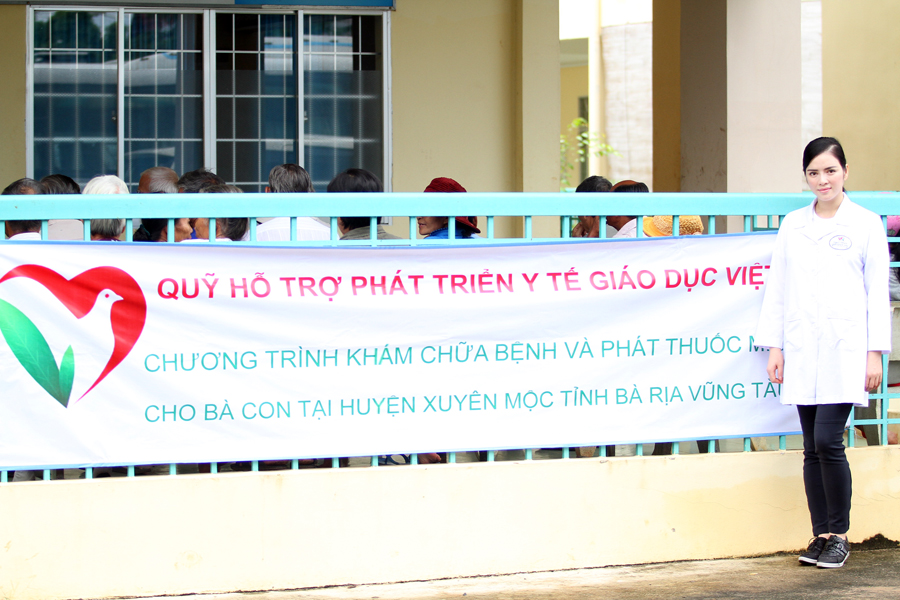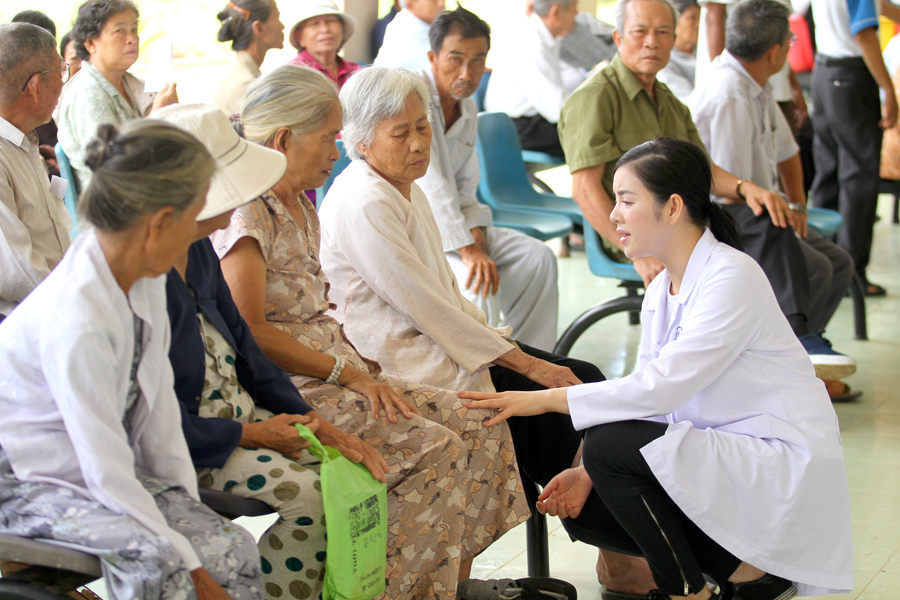 On 22nd October 2013 President of Health Education Development Fund of Vietnam Ly Nha Ky visited to a charity examination for 500 patients in Xuyen Moc District, Ba Ria Vung Tau Province – her homeland. Being here she was heart-breaking hearing elder patients sharing in their whole lives they do not dare to go to hospital for examination because it cost them too much. She also wished her free-of-charge examination program will reach poverty areas where people have few opportunities to have periodical examinations.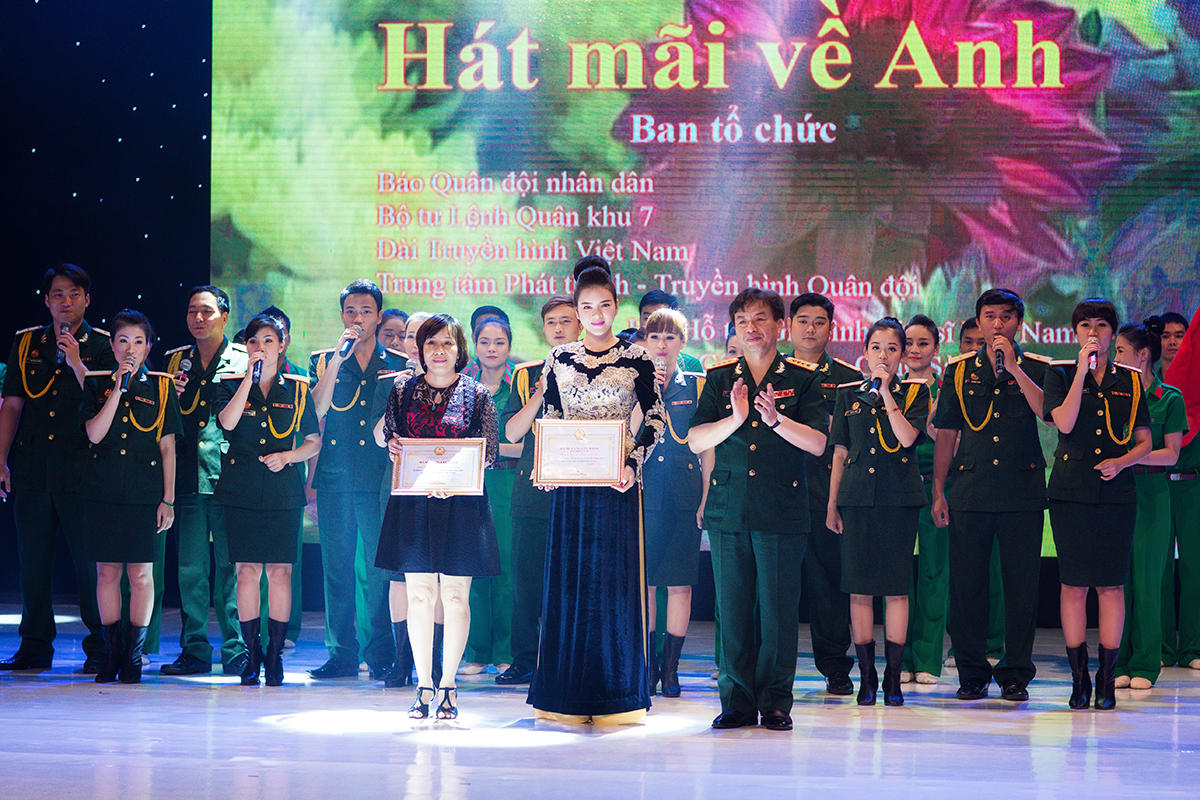 On 18th December 2013 Ly Nha Ky visited cemetery of Sac Forest, where her Father together with his companions rested in peace in the fierce war time long ago. Ly Nha Ky revealed that there is a coincidence of date 22nd December which is the date of Vietnamese people's army established and her Father's birthday (22nd December 1952), Martyr Tran Ngoc Ly. On this occasion Ly Nha Ky also joined in the special art exchange program to commemorate brave soliders who fighted at the Sac Forest. She offered 6 saving books, each worth 5 million Vietnamdong for families of martyrs for encouragement. Ly Nha Ky was rewarded with golden credit for her precious contribution to this program.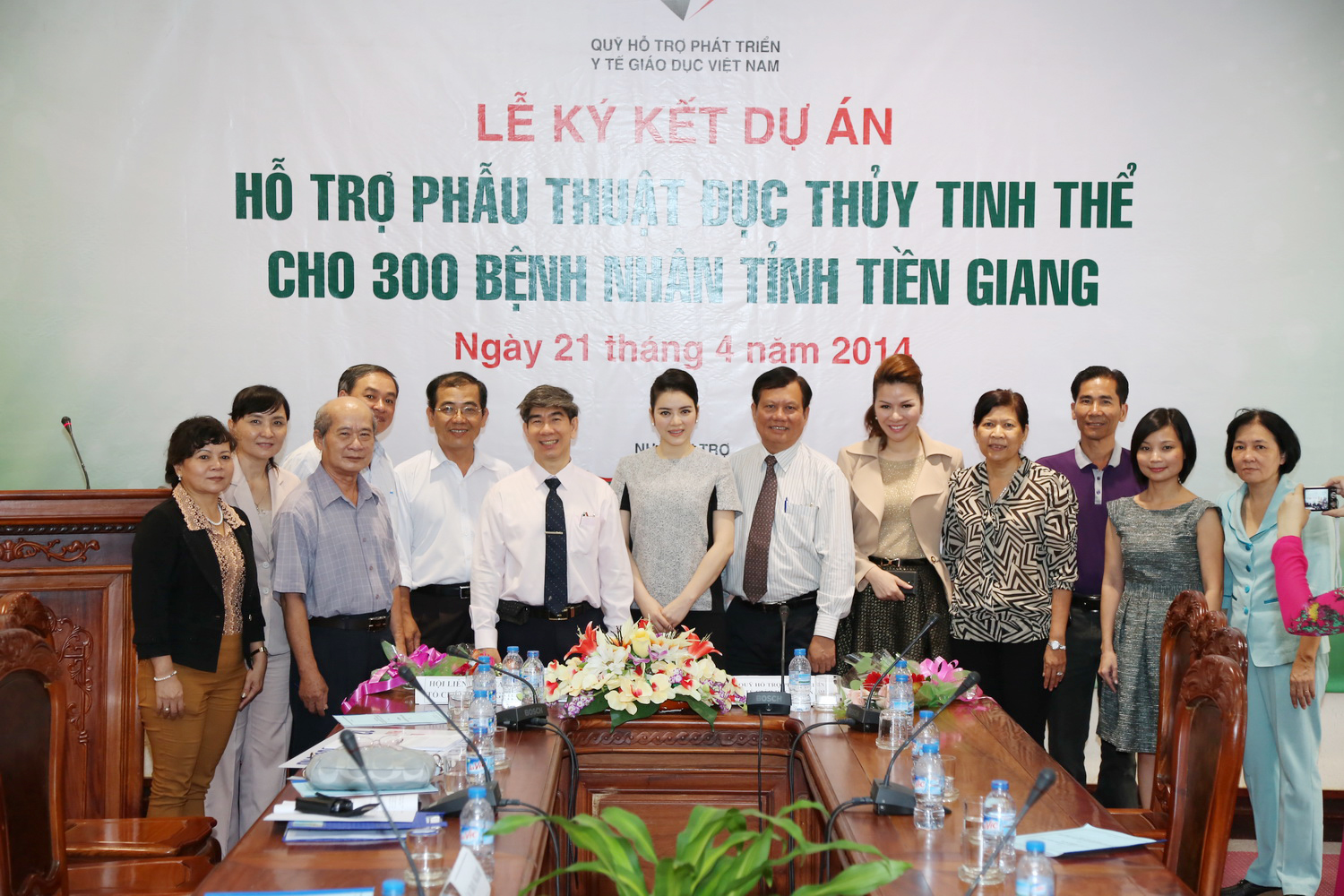 On 21st April 2014 Ly Nha Ky, the Founder as well as President of Health Education Development Fund of Vietnam was present at Tien Giang Province to sponsor and execute the program "Assitance to Cataract Operation for 300 Partients of Tien Giang Province". This program is the cooperative organization between Vietnam Health Education Development Fund, Tien Giang Health Office and friendly organization federation of Tien Giang Province. After the contract ceremony, Ly Nha Ky together with other guests and sponsors paid visit to medical station of Cho Gao District and eye hospital of Tien Giang Province to directly watch the 1st 5 cataract operations of the program happened. Ly Nha Ky wore the blu shirt and visited each patient to encourage and give her regards to them before operations. Seeing happiness in the eyes of patients who have difficult situations, Ly Nha Ky welled up tears in strong emotion. She shared that what she did today although not too big, but looking at how happy these people were she felt that her life now became more beautiful and meaningful.
On 24th May 2014, Ly Nha Ky organized a fashion show and auction event at Lynk Boutique with the mission to support for sovereignty protection of East Sea of Vietnam in period of political tension and conflict between Vietnam and China. In this occasion, Ly Nha Ky directly hosted the auction and successfully called for contributions from many business men, women and celebrities to join this meaningful activity. As the result, the auction ended up successfully with contribution up to 12,800 USD, and this entire amount was donated to Tuoi Tre News's Program "Uniting efforts to protect Vietnam East Sea sovereignty".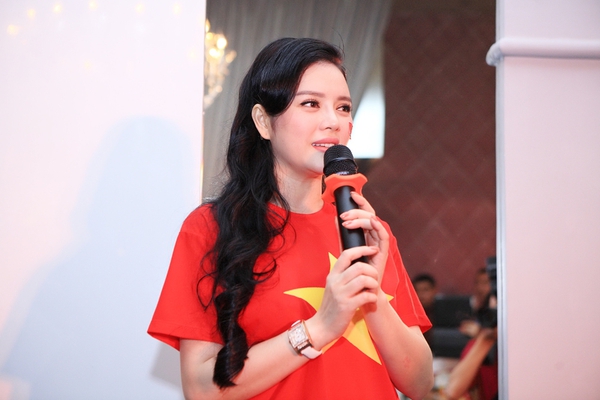 Ly Nha Ky wearing t-shirt printed Vietnam national flag to host and call for the auction by herself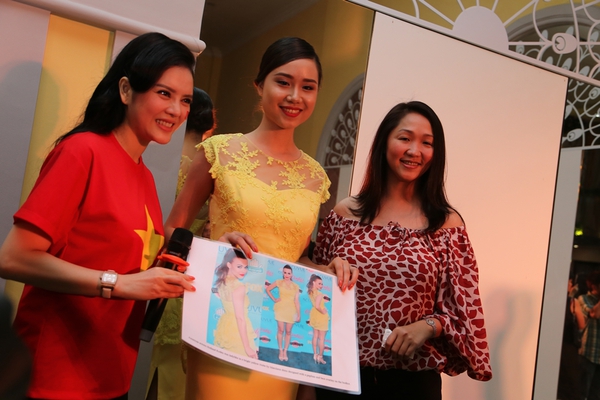 A business woman guest supported for this meaninful event by purchasing Marchesa Notte dress being worn by actress Holland Roden on red carpet of Teen Choice Awards 2013 at 2,000 USD.
On the following day of 27th May 2014, Former Ambassador of Vietnam Tourism – actress Ly Nha Ky donated additional 50 million Vietnam dongs to another similar program of Thanh Nien News "Uniting efforts to protect Vietnam East Sea sovereignty".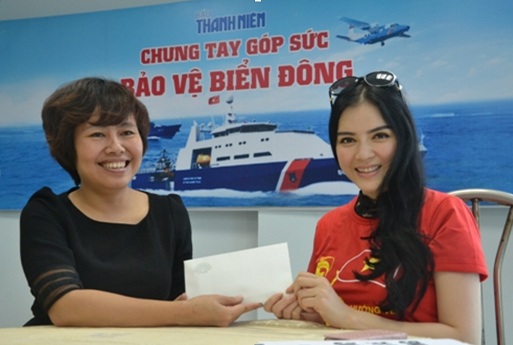 Dang Thi Phuong Thao – Deputy Editor of Thanh Nien News – received extra donation from Ly Nha Ky
Ly Nha Ky was hand-writting a letter to send her sincere and warm encouragement to remote soldiers and fishermen daily and nightly guarding and fighting to protect sovereignty of Spratly Islands and Paracel Islands of Vietnam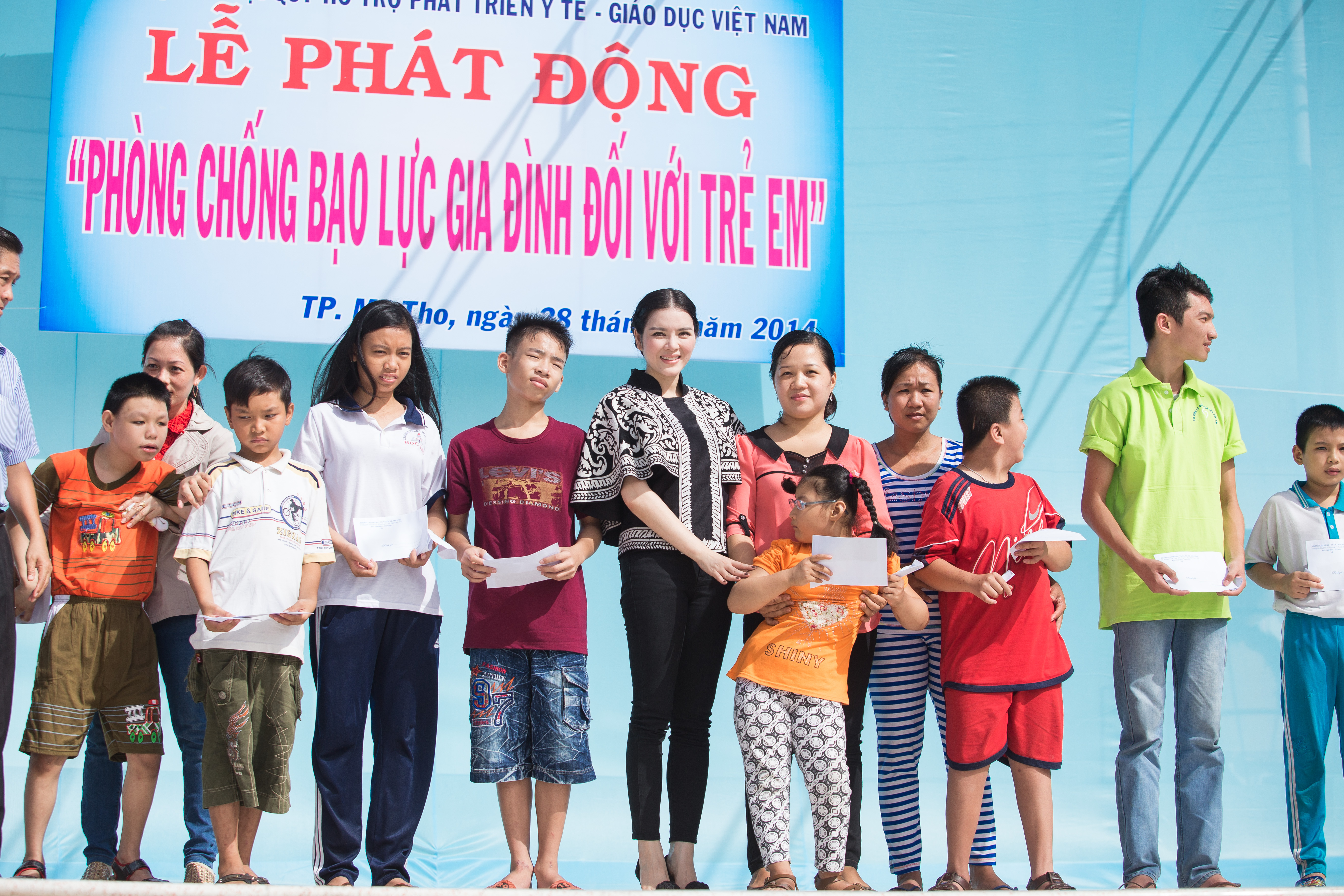 On 28th July 2014 Ly Nha Ky coordinated with the People's Committee of My Tho City, Tien Giang Province to organize a cycling parade to call for "Diminishing in children abuse". This is a program within operation series of Health Education Development Fund of Vietnam which the Former Tourism Ambassador Ly Nha Ky now holds the President role, in coordination with many locals nationa-wide. Its mission was to transmit the message of "Saying NO to children abuse".
On 7th September 2014 at My Tho City (Tien Giang Province), President of Health Education Development Fund of Vietnam Ly Nha Ky offered presents for 400 children with special circumstances in order to bring them a warm and happy Middle Autumn season.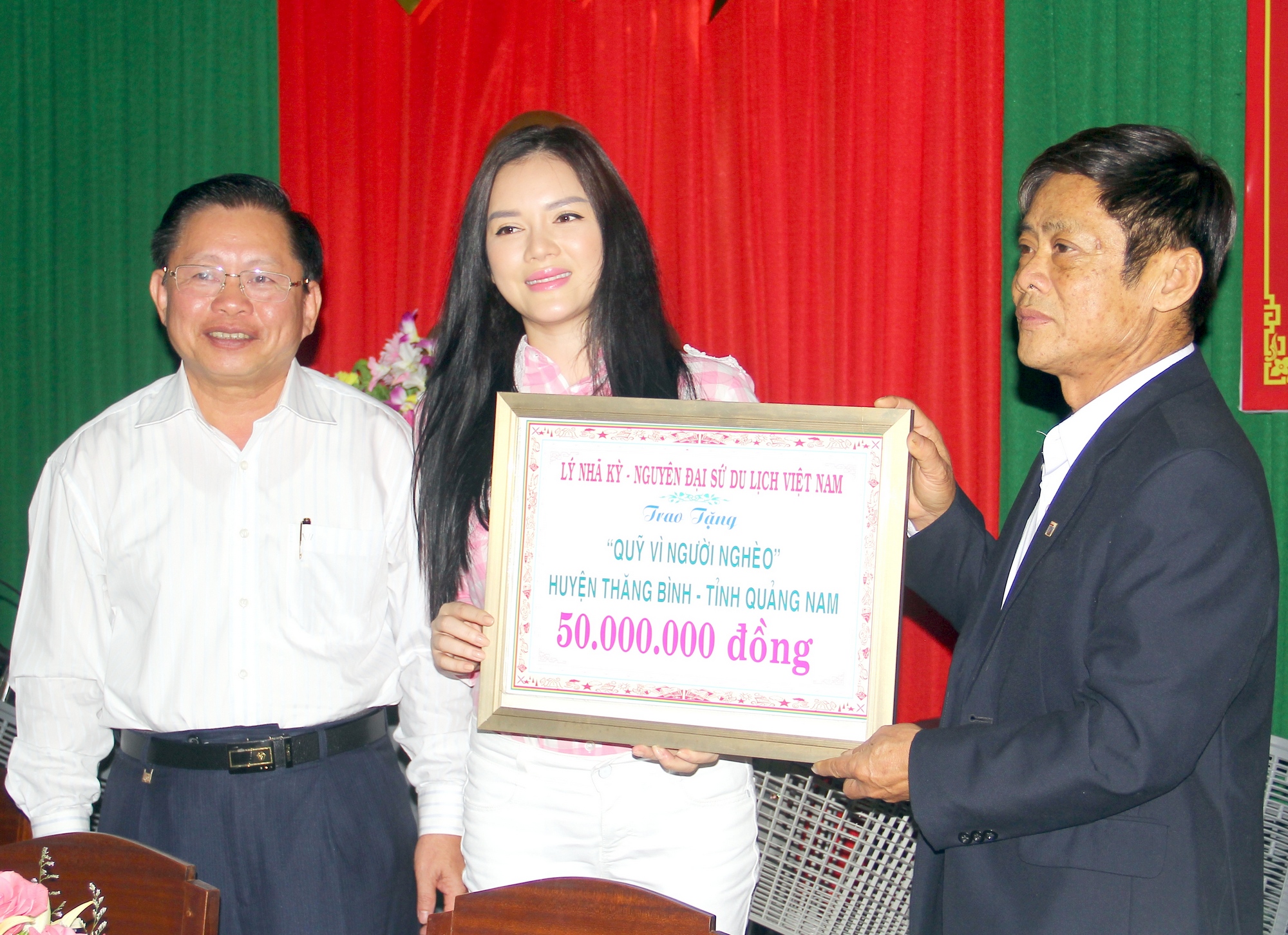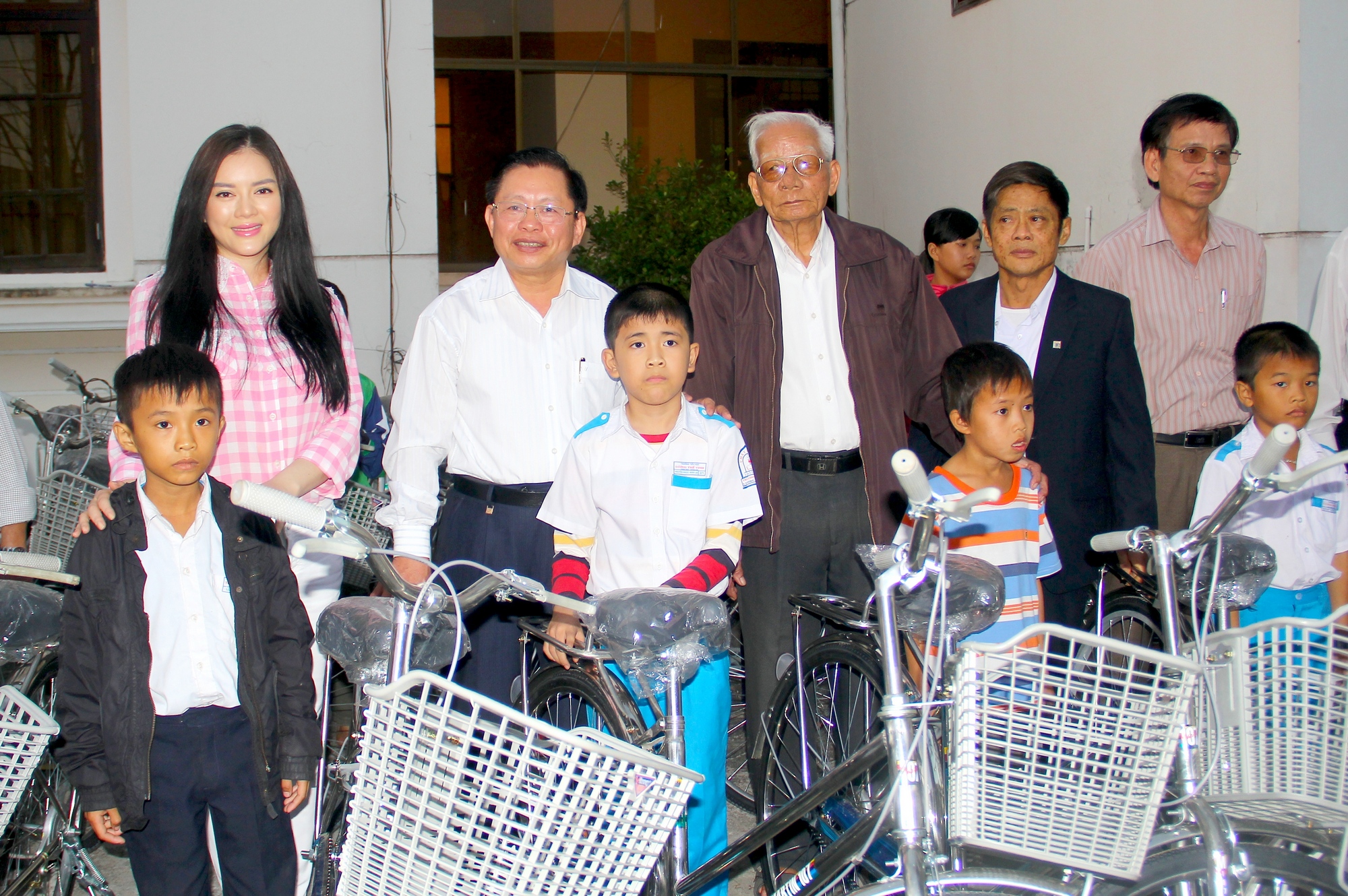 On 1st February 2015, President of Health Education Development Fund of Vietnam Ly Nha Ky offered 50 millions Vietnamdong for poor families together with 50 bicycles for poor students with studying competency at Thang Binh District, Quang Nam Province. With desire to bring more happiness and warmth for Lunar New Year Holidays to poor people and create the opportunity for poor students going to school on bicycles instead of walking a long way to school.
On the occasion of Lunar New Yar 6th February 2015, President of Health Education Development Fund of Vietnam Ly Nha Ky visited and directly offered 200 presents worth 120 millions Vietnamdong to patients with difficult situations at Tumor Hospital in Ho Chi Minh City.
Ly Nha Ky shared that: "Lunar New Year is a crucial moment to each and every family! I always feel my own Lunar New Year will be much more warm and happy when I can share with those having difficulties, ill-fated lives and help children to have a complete Lunar New Year in their childhood. That is why although my schedule is packed at year end and also have to prepare for a long Paris trip but I still spend my little time to share with unlucky patients…"
In early days of November 2015, Ly Nha Ky went to Dak Lak Province for charity trip. She was not afraid of the sunburn weather to visit each poor family of Cư Ebur Commune and Buon Don District.
In that trip she offered 2 charity houses for family of Mrs. H'Lăk Ksơr and of Mrs. H Hiêm Adrong in Buon Don District. Mrs. H'Lăk Ksơr's family has 8 members, her husband died due to fatal disease therefore alone she has to strike for family living. While Mrs. H Hiêm Adrong did not have a house to live in and struggled to take care of her elder father who is a wounded soldier and very weak. On this occasion, Ly Nha Ky also offered many presents to people with difficult situations over here, helping these ill-fated people made her feel very warm.
Khau So is a local commune located near Vietnam – China border, ethnic people live scattered all over highlands and mountains with dangerous, steepy and difficult roads, therefore their lives are under harsh conditions because there is no land for agriculture while transporation is not advantageous hence limited trading, and they do not have other careers. Although living under such difficult circumstances but they seriously pay attention to their children's study while knowing that there is a long way to go from home to school through steepy mountain pass and rocky roads, however they are still industrious taking children to school every day.Being touched by such admirable study spirit of these children and watching them studying in a temporarily-built wooden house on a mountain side, under facility depriviation and suffing from draught and sunburn weather all the time, Ly Nha Ky decided to build up a new school with full facility for these children to encourage their study spirit and ethinic families over here.
For the 41st anniversary of Liberation of the South (30/4), Ly Nha Ky - President of Health Education Development Fund of Vietnam – together with Vietnam Union of Friendship Organizations in the South, and the Vietnam Fatherland Front in Long My Town (Hau Giang), organized a ceremony to donate 2 brand new houses for Mothers of the Heroes and families in need in Long My Town (Hau Giang).
In this project, Ly Nha Ky has sponsored 100 million Dong for the building of 2 houses and another 10 sanitary utilities for 10 other families.
Ly Nha Ky herself felt more content knowing that she was not only able to help families with better shelters, keeping them safe from the weather, but also had the chance to share their infortunes, their pride of the lost ones whose bravery and health and even life was dedicated to the peace of this country.
Also in this trip, through Vietnam Union of Friendship Organizations, Ly Nha Ky also spent time talking to international friends who shared the same mission with her, about the difficult lives of local people in need. She strongly expressed the urge to help more and more people to achieve comfort and happiness.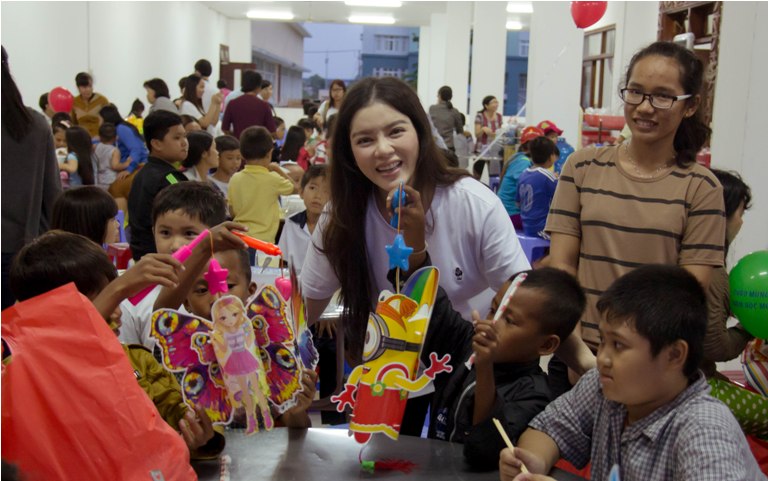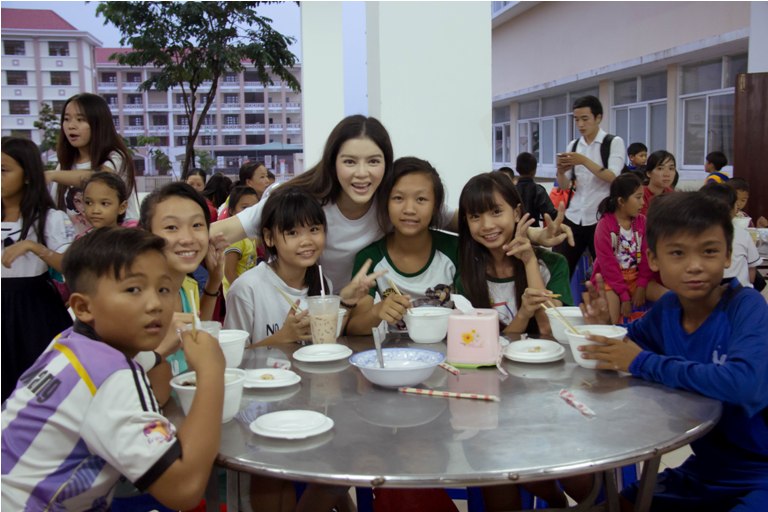 September 11th 2016, the Health Education Development Fund of Vietnam – founded by actress and entrepreneur Ly Nha Ky together with the Association for the Support of Vietnamese Handicapped and Orphans in HCM City, as well as the officials of District Binh Chanh organized the "Moon Festival of Children" for orphans, handicapped, and all children in need in the region.
Ly Nha Ky, her fans, and all supporters prepared traditional beef noodle for 300 little ones. During her busy time cooking, she spent time with all the children as a dear friend, regardless of her celebrity status. Ly Nha Ky appeared in a simple outfit, creating a lot of fun playing and chatting with them. Even in each and every single present she had prepared, she expressed her deep understanding with them, from things they wanted for the holidays, to the lanterns, and moon cakes,…
With all the meaningful philanthropy work, Ly Nha Ky wanted to compensate as much as she can for the children to enjoy a true holiday specially designed for them. After all these year, with much effort, Ly Nha Ky and her Health Education Development Fund of Vietnam has been and will be accomplishing more and more events like this in contribution to the society.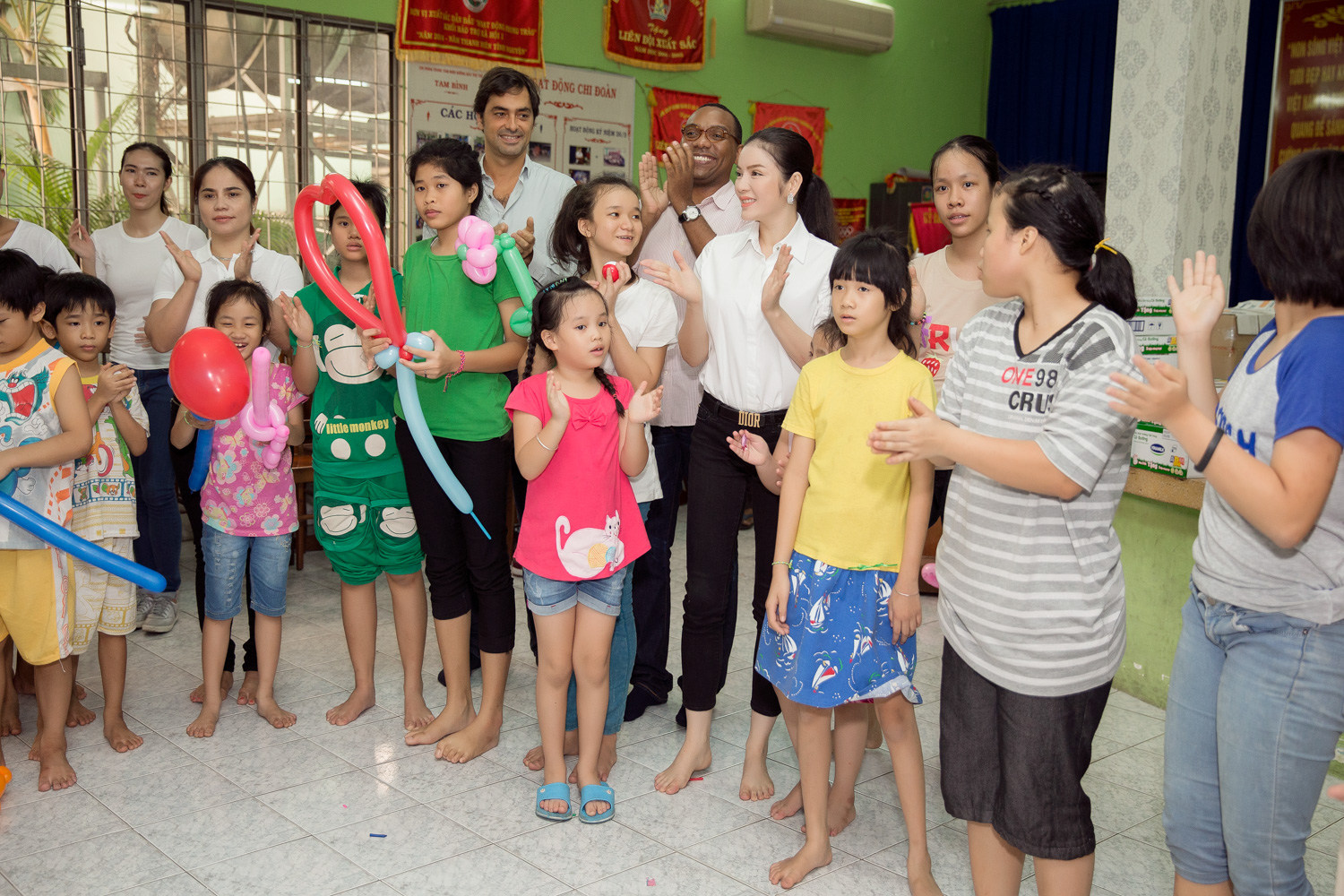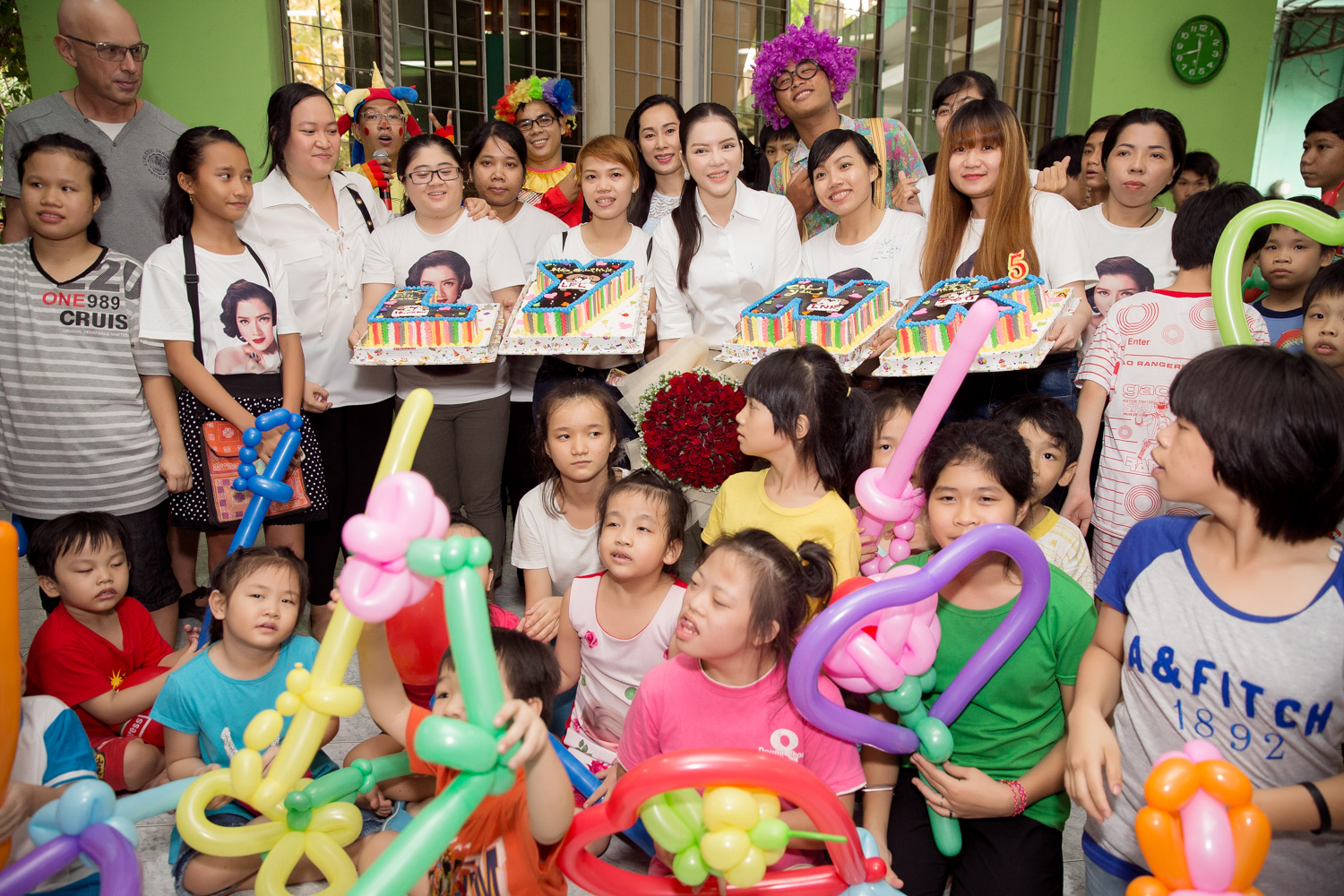 On July 18th, our former Tourism Ambassador, along with her partners and fans have had a visit and talk with nearly 200 orphans and handicapped in Tam Binh Center of Care and Support (Thu Duc, HCM City), presenting more than 200 presents to the kids.
After being told about Tam Binh Children Foster Care Center, home to many orphans, regardless of her busy schedule, our actress and businesswoman quickly plan her visit. Many friends and fans volunteered to go along with her for the meaningful act. Among all, there were two very special guests including Haiti Ambassador – Mr. Jean Lesly Benoit, and the famous French film producer – Mr. Charles Gillibert (Clouds of Sils Maria, The Oscar, Personal shopper...).
Much to her surprise, also for birthday, her fans and partners had planned an secret party for her with roses and 4 birthday cakes that came together to create her initials LYNK. But the most touching gift to her was a painting from the children at Tam Binh Center. Embracing a little girl with the same birthday as her, Ly Nha Ky shared that this would be one of the most memorable and meaningful birthdays of her.
After announcing her second movie named Angel's Face, starring Oscar Winning Actress Marion Cotillard, Ly Nha Ky has organized a trip to Cam Ranh Khanh Hoa in support to those who were affected by hurricanes.
Her team has given out 200 presents in An Duong temple, 250 in Dien Tho temple, and 600 in Ngoc Hoa temple in Cam Ranh ,Khanh Hoa. Each present is a best wish hoping to ease and share all the lost they have suffered from the constant hurricanes, especially during this time – right before the TET holidays. Ly Nha Ky wasn't there to just watch, she was personally handling out the gifts and cash, asked and listened to what they had to share, and even walked side by side, helping the elders and the ills.
Appearing in basic jeans, T-shirt, and a pair of flats, our businesswoman prioritizes the comfort of movement and ease to give out the prepared gifts to everyone. Her relentless energy and her compassion for love are able touch anyone's heart despite her many sleepless night due to work prior to the trip.
As a woman of success in many fields, Ly Nha Ky never lets go of her humble start. With her precious leisure time off of work, she constantly goes on charity trip to help as many as possible.
"What I have done is nowhere near something great, but to be able to spread happiness, I feel like I a living a fuller, more meaningful life", she shared.